Andres DC
| | |
| --- | --- |
| CUISINE: Grill | ZONE: Rosa  |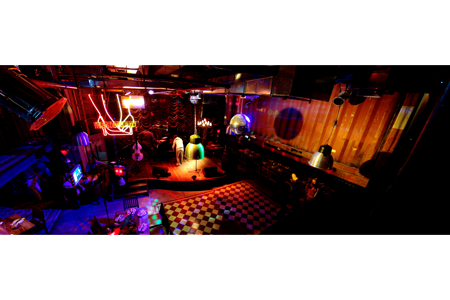 PROFILE
Andres DC is located in Bogota. It is a branch of Andres Carne de Res, which is located in Chia and is one of the most iconic bar/restaurants in Colombia. In other words, it is the urban version of Andres Carne de Res.
The restaurant has a capacity of 1,200 people and occupies four floors of El Retiro mall. An interesting fact is that each floor has a particular name that was given by the first customers. So, the first floor was named El Infierno (Hell), the second is El Purgatorio (Purgatory), the third is La Tierra (Earth) and the fourth floor, where there is a terrace with a nice view over the Zona Rosa, is known as El Cielo (Heaven).
Each floor has been decorated according to its name, and the entire place's ambiance is kind of kitsch (as it is in Andres Carne de Res). It is decorated with articles designed and created in the Andres headquarters, in Chia. Every article is handmade, unique and reflects something of the Colombian idiosyncrasy.
Food and drinks are delicious. Andres DC (and, in general, all the Andres franchises) is known by the quality of its products. The menu offers typical Colombian entrees as empanadas, patacones con hogao, arepas, envueltos and tostones, and some other as soups and salads.  You have to try them all!
Among the main courses the meats are a must, considering that Andres is world-famous by its grilled meats.  Loins, sirloins, ribs, steaks and top sirloin cap steaks are served in different presentations. Grilled chicken for poultry lovers and pork for pork lovers. The Picadas are a good option for big groups. There is also a good selection of Argentinian and Uruguayan beefs.
The menu's variety is almost endless. You can also try the river and sea food or the Marco's Kitchen options. Your food can be served with champagne or white and red wines from Chile, Argentina, Spain or the rest of the world.
 The experience of taking lunch or dining (or even taking a breakfast on Sundays) in Andres DC is unique. However, this restaurant is also well known among the Bogotanos as a great place for partying.
The Colombian Rumba takes the place at nights, from Thursday to Sunday. Enjoy a cocktail or the liquor of your preference whilst partying; the options are varied and perfect for a fun Colombian party.
Waiters are young university students, which makes possible an attentive and dedicate service for every customer. I guarantee you will have a good time there, as it is a peculiar and full of the Colombian joy place. 
LOCATION
Calle 82 # 12 - 21
Ver mapa más grande
HOURS: Mon - Wed: 12m - 2am. Thu - Sat: 12m - 3am. Sun: 12m - 11pm.
WEBSITE: www.andrescarnederes.com
Home > Bogota Restaurant Guide > Zona Rosa Restaurants > Andres DC