Humpback Whales Watching At the Colombian Pacific Coast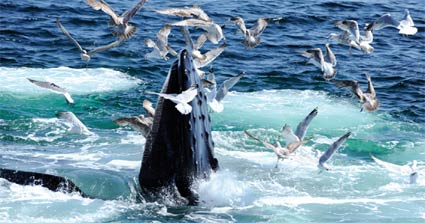 Photo credit: www.guiadeballenas.com
The humpback whales watching is one of the most extraordinary natural activities anyone can do in our country. Every year hundreds of humpback whales arrive at the Colombian Pacific coast. They escape from the cold winter waters at the South Pole and south of Chile, and come eager for the warm tropical water.
This warmer climate will facilitate the birth of baby whales and will make it easier for the females to feed and train for survival their newborns. Males will also be inspired to woo the females thus continuing on with the survival of the specie.
In the month of July, attracted by the 25°C waters of the ocean along the Pacific Colombian coast, arrive the first groups of humpback whales. During whale season, which peaks in September but can last until December, about three thousand whales reach the Colombian Pacific coast.
You can do the humpback whale watching in Nuquí (Chocó department), Bahia Solano (Chocó department), Buenaventura (Valle del Cauca department), Tumaco (Nariño department) and Gorgona National Natural Park (which you can reach by sea from the municipality of Guapi, located in the Cauca department).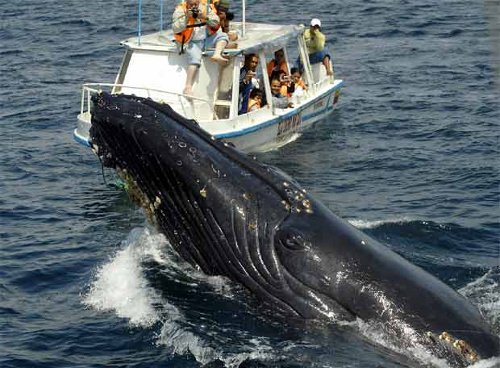 Photo credit: www.nosoloviajeros.com
Recommendations

There are some general recommendations you, as a tourist, should take into account for your enjoyment and care of the natural environment. Note that the humpback whale watching is an activity regulated by law and must be conducted with respect and consideration for the animals and the environment.
- It is necessary to get vaccinated against yellow fever and tetanus.
- Do not litter.
- Remember to bring a raincoat.
- Do not make unnecessary noise aboard watching boats or in wildlife habitats.
- Keep in mind that the weather in the Pacific Region is humid and warm. The average temperature is 27°C and there is constant rainfall.
- Do not feed the whales.
- Be careful and be attentive on board watching boats.
- We recommend to take with you swamp boots, sneakers, insect repellent, light clothing, sunscreen, camera and plastic bags.
Whale Watching Guide
You can see this handy Whale Watching Guide.
Home > Colombia Nature > Humpback Whales Watching