Restaurante 1492 
| | |
| --- | --- |
| CUISINE: Latin-American | ZONE: Rosa  |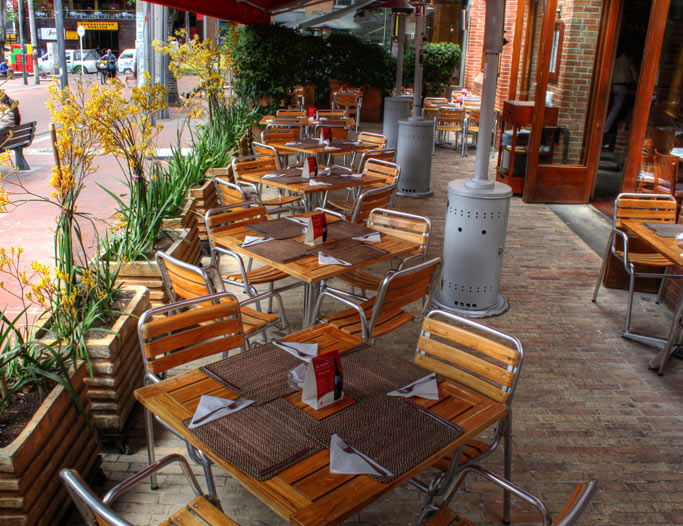 PROFILE
The Restaurante 1492 is a specialist in Latin flavors. Here you will make your own gastronomic discoveries without leaving Bogota or sailing a caravel. Go on a journey through the Latin American flavors, from Mexico to Argentina, by the hand of Juanita Umaña de Vargas, the head cook.
This restaurant is modern and casual, and has an amazing location, right in the middle of the Zona T, where it is possible to find an enviable gastronomic offer surrounded by malls, design stores, bars and night clubs. In other words, this zone offers almost everything you need for having fun.
The Restaurante 1492 is well known for its generous portions, so, if you are a good eater, it is guaranteed that you will be more than satisfied after your visit.
Let's start with the entrees. You can choose from a varied selection of entrees which go from the famous Colombian fritanga to carimañolas stuffed with cheese. The arracacha pastries are also a good option. For the vegetarians there is a salad with cheese, fresh palm hearts and variety of tomatoes.  A must: the ceviche guayaquileño (pieces of fish and shrimp cooked in lemon and orange juice with corn).
Among the mains stand out two very special dishes: the trout stuffed with cheese wrapped in amero with roasted tomato sauce, and the chicken breast stuffed with mango and ham with guascas butter. Them both sound great, right? However, the main dishes menu offers other possibilities of meat, fish and poultry.
If you're a dessert lover you will love the desserts menu of 1492. Try the figs with arequipe (a light brown soft spread of sugar and milk), a very common dessert in Bogota and its surroundings, or the obleas (or wafers) with arequipe and whipped cream. We think that anyone who loves desserts would be amazed with the bananas to the oven with cheese in passion fruit sauce with vanilla ice cream.
The cocktails, liquors and wines list is also wide and varied. In 1492 you can drink aguardiente, rum, pisco, tequila, the wine of your choice or a delicious cocktail.
Here in 1492, the gastronomic offer will fascinate you, just like America fascinated Columbus more than five hundred years ago.   
LOCATION
Carrera 12A #83 - 11

Ver mapa más grande
HOURS: Mon - Sat: 12m - 12pm. Sun: 12m - 5pm.
WEBSITE:  www.1492restaurante.com
Home > Bogota Restaurant Guide > Zona Rosa Restaurants > Restaurante 1492