Restaurante La Cigale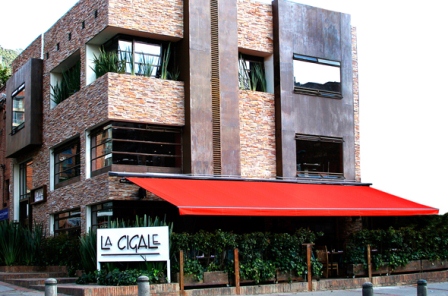 PROFILE
The Restaurante La Cigale is a restaurant with Mediterranean and French cuisine. It was founded in 1998 as a bistro to offer the public of Bogota a high standard gastronomic choice, in a casual atmosphere, with personalized service and an affordable menu.
The ambiance of this restaurant is modern and casual but we still can say it is sophisticated, with the European touch but without much hassle.
The property, a three-story corner building, is known for its casual atmosphere and has a terrace for those who enjoy outdoor dining.
On the first floor you'll find La Charcuterie de La Cigale, where you can purchase pates, hams and homemade pickles; in the second floor you can find La Cigale Classique, with a more sophisticated atmosphere; and on the third floor there is a lounge for private events for up to 70 people.
Located in the middle of the Zona G, La Cigale is renowned for its selection of wines (over 300) and because it is led by François Cornelis, one of the most prestigious foreign chefs in Colombia.
The menu of this restaurant is diverse. Here you can enjoy from a sandwich to a delicious pasta or risotto.
Although the menu at the Restaurante La Cigale is extremely varied, there are main dishes that you cannot miss. Here some of them:
The ribeye beef (chuletón de res): 450 grams of meat served in one of three sauces to be chosen: mustard, Bordeaux or Brugge.
Los hombritos de cerdo: a juicy piece of braised pork shoulder roasted in a wood oven.
Magret de canard trois sauces: duck breast that you can order with any of the following sauces: three peppers, orange or passion fruit, honey and ginger.
Starters are also varied and include soups, antipastos and Pacific octopus. Among the desserts stands out the crème brulee, the crème au chocolat (the authentic Parisian) and the Dama blanca (vanilla ice cream, white wine sabajón, chocolate and whipped cream).
LOCATION
Calle 69 A #4 - 93

Ver mapa más grande
HOURS: Mon - Sat: 12m - 4pm / 7pm - 12 am. Sun: 12m - 5 pm.
WEBSITE: www.lacigale.com.co
Home > Bogota Restaurant Guide > Bogota Zona G Restaurants > Restaurante La Cigale