Bonaparte Restaurant Creperie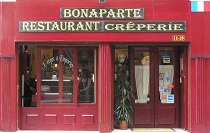 PROFILE
The Bonaparte Restaurant Creperie is located right in the heart of Bogotá, in the traditional district of La Candelaria, a few steps from the Bolívar Square (Plaza de Bolívar), where there are some of the most important historical buildings of the city, as the Palace of Justice (Palacio de Justicia), the National Capitol (Capitolio Nacional), the Liévano building (Palacio de Liévano) and the Primary Cathedral of Bogotá (Catedral Primada de Bogotá).
Bonaparte is a place that seems to have stolen something of the indescribable and almost unattainable charm of Paris to place it in the center of the Colombian capital.
It is a place that operates under European taste, which has a chef of French origin who loves and feels the kitchen in his veins, and who is the author of a perfect meal for those who know the exquisite French fine dining.
During the last 23 years, this restaurant has been spreading the delightful French cuisine culture in the Bogotá downtown and among its inhabitants and visitors, with its wines, music and special ambiance for families and groups of friends.
The Bonaparte is a small and cozy place, with capacity for 30 people, which make possible a dedicated and attentive waiter service for every customer.
The menu offers various starters, fish, crepes, meats and desserts characteristic of the French cuisine as well as a selection of aperitifs and French and Chilean wines. Some of the main courses that stand out are the baby beef, the beef tenderloin and the chicken breast in various presentations. Of course, you can't miss the typical Filet Mignon. Among the desserts stands out the Creme Brulée.  
LOCATION
Carrera 8 # 11 - 19
View Larger Map
HOURS: Mon - Sat: 12m - 4:30pm
WEBSITE: www.bonapartebogota.com 
Home > Bogota Restaurant Guide > Bogota Downtown Restaurants > Bonaparte Restaurant Creperie